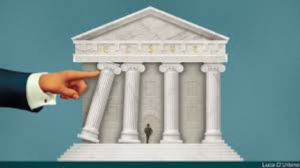 My view on our banking sector has been enunciated clearly many times in this newsletter.
However, this week in Newsroom an article appeared which said:
Business people have sounded an alarm about the Government's Business Finance Guarantee Scheme, which they say is hitting the same roadblocks as a troubled scheme overseas.
And then they gave as an example the issue about a business which had attempted to borrow money from the scheme and had a disgusting response from the bank. The only error in the article is they didn't name which bank it was:
Define Instruments CEO Anthony Glucina said his manufacturing business experienced problems when Covid-19 hit China and supplies started to get held up.  His company manufactures control and measuring instruments for factories.
The company imported parts from China, but the price of air freight under lockdown had skyrocketed from $7 per kilogram to $20. That played havoc with his ability to meet orders.
He estimated revenue had dropped by a quarter. Fifteen people were employed by the company and it had $300,000 in debt on its books against $2m in assets.  With further supply chain disruption on the cards, that meant his company had to stock more inventory, just in case. 
An extra $300,000 loan "buffer" would take staff layoffs off the table if the market didn't roar back to full capacity within a few months.
"We just don't know what decisions some of our customers are going to make," Glucina said.  "If we go out of business all these jobs will be lost forever," he said.
The Government's scheme seemed perfect, but when he went to his bank it wouldn't issue the loan without several guarantees. Those included a first mortgage on his house and personal financial guarantees from all of the company's shareholders and directors.
Then it wanted additional security for the loan that he secured against the company's books.
Our banks are essentially mortgage lenders. In our family business any loans, which were quickly repaid, were secured by mortgages on the homes of our Directors. This isn't business lending. They only understand real estate.
This demonstrates that the banks are not behaving the way the Government required them to. Remember the 2008 Credit crunch? Remember how the banks obtained massive gains from the public purse, and changed nothing, whilst greedily gorging their path onto even greater profits? Well, here they go again.
If we don't watch these greedy organisations they will, once again, cream it.