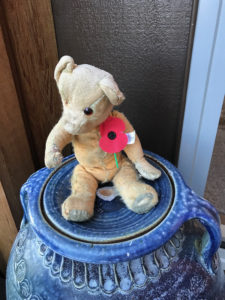 IT was interesting to stand at our gate and wave to the neighbours and reflect on previous wars. I have always seen wars as a dreadful failure of leadership. There are a number of world leaders right now who could cause another awful war. Trump could cause a war in his own country.
It was sobering on Kim Hill's programme on Anzac Day when she interviewed Christina Lamb a journalist who has worked amongst the world's war zones for 30 years. Her stories of the rape of women was sobering and a dreadful reflection on the behaviour of men in war. Have listen but it is not easy listening. https://www.rnz.co.nz/national/programmes/saturday/audio/2018744059/christina-lamb-bearing-witness-to-war-crimes-against-women
There was a wonderful interview also on Kim Hill about the impact of the American forces on the Maori community. This sparked off a personal memory. As she slowly aged and opened up to my daughters in a way she had never to her kids, my mum told them a story of an American serviceman.
She dug out of her pile of rings and bangles a signet ring. She told them she had fallen in love with an Italian-American serviceman when he was in New Zealand on leave. She even told them his name, which we have now forgotten unfortunately. He told her that she was to keep his ring close to her and that when the war was over, he would come back and collect the ring, and her.
He died somewhere in the Pacific. This was the first time she had ever opened up about this aspect of her life.