In an excellent article in the Press recently the Chair of Ecan, Peter Scott, spoke forcefully about how we are being forgotten down here by both National and Labour. I can't link to it as the Press don't share open access to their articles so somebody with access has copied it and here it is in full:
The chairperson of Canterbury's regional council is calling out politicians for "half-baked" election policies and promises that ignore Canterbury, saying no one wins if the region goes bankrupt.
Peter Scott, chairperson of Environment Canterbury (ECan), says candidates who want Cantabrians' votes need to acknowledge the "real and complex challenges staring down at us", in an open letter published on Monday.
He said ratepayers have invested significant amounts of money into flooding resilience, public transport and other programmes to protect the region's environment, but the council was "running out of funds" to respond to major issues.
"No one wins if we bankrupt the country or the region trying to recover from more frequent and more severe flooding events," he said in the letter.
The letter urges candidates ahead of the October 14 general election to think "beyond Lambton Quay and Queen Street".
"It's frustrating hearing about half-baked million-dollar policies and election promises that won't add any value to us here in Canterbury," Scott said.
He told The Press one such promise was Labour's $45 billion plan to build two road tunnels and a light rail tunnel across Auckland's Waitemata Harbour, which he was concerned could overshadow the $3-4b mass rapid transit plan Greater Christchurch was working on.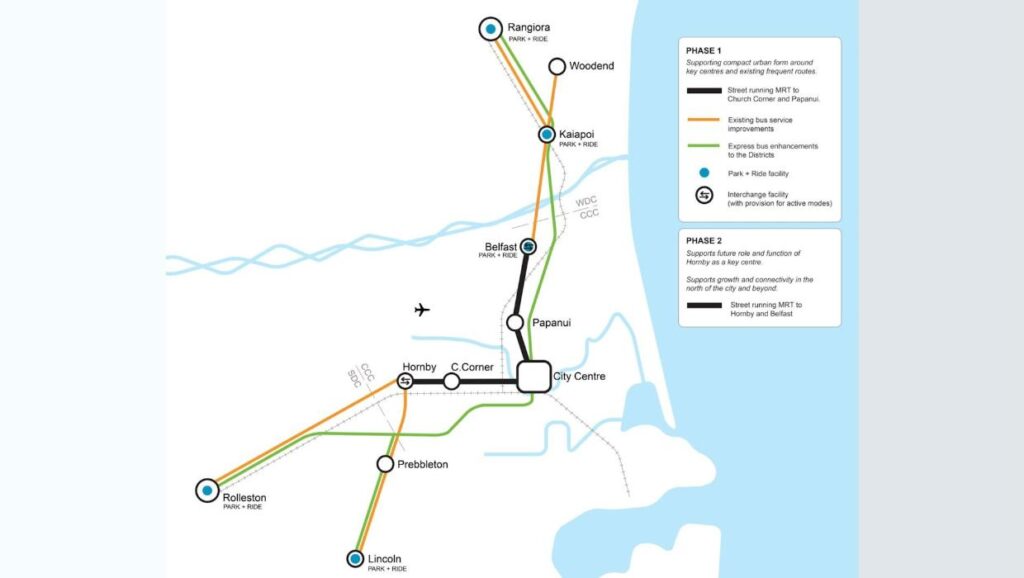 The proposed routes for mass rapid transit in Greater Christchurch would cover about 80% of Canterbury's population, Scott says.
WAKA KOTAHI / GREATER CHRISTCHURCH PARTNERSHIP
Greater Christchurch's proposed mass rapid transit route would span from Rolleston to Rangiora, within which over 510,000 people (80% of Canterbury's population) lived.
Scott said the letter was timed to coincide with an increase in candidates being visible in the community, and with parties announcing their policies.
He was growing increasingly frustrated trying to influence decision makers in Wellington, despite Canterbury being the largest region in Aotearoa by area, he said.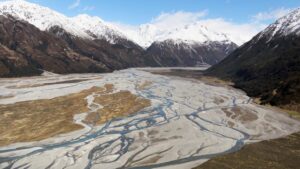 The region was also complex and nationally significant, ranging from alpine and high-country tussock land, to major lakes, braided river systems and some of the country's most productive farmlands.
"I don't want to see government action (or inaction) force us to compromise our community and our environment," he said.
"We have a lot to offer here in Canterbury, but we're under the pump. We want a strong relationship with central government, and for them to understand our potential and our priorities."
The Canterbury region is home to a complex and nationally significant environment, from braided rivers to alpine land. Pictured are the Upper reaches of the Rakaia River. Image taken in 2012.
KIRK HARGREAVES / THE PRESS
"Biodiversity enhancement and pest management would be our biggest problem if we didn't keep getting flooded."
The open letter calls on politicians to meet with Scott and other ECan councillors, and to keep Canterbury in mind as they set policies and make funding decisions.
Scott sent the letter to politicians ahead of the Monday launch, but as of Sunday only TOP leader Raf Manji, one Green Party candidate and one ACT Party candidate had reached out to him.
Although the Government had supported council programmes in the past, including for flood resilience and pest management, Scott said funding was "scattered and project-based".
"We know what we're doing, we just need the resources to do it," he says in the letter.
"Canterbury isn't getting a fair go when we look at how funding is allocated nationally. I don't think it's too much to ask for the resources and time we need to meet our obligations, without unfairly impacting our ratepayers."
– The Press