In the Tuesday Club notes last week we reprinted the email informing what the new corporate structure will look like at CCC and who the new appointees were.
Here is the new structure for Christchurch City Council: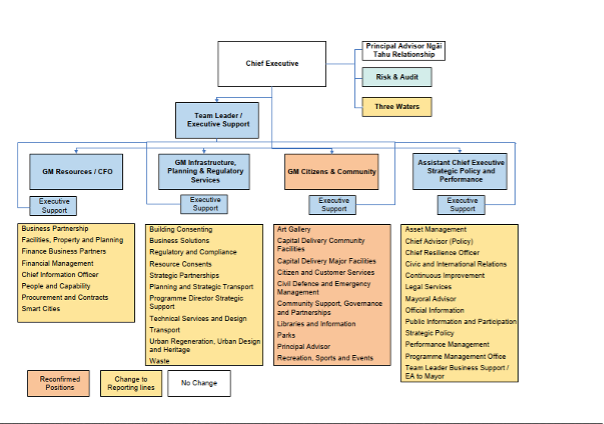 Of concern is that Dawn Baxendale has 8 direct reports. That is way too many.
I am concerned that as a result of the restructure and appointments there is neither a Chartered Engineer, nor a Chartered Accountant, in the Executive team. I will now analyse this mistake.
Financial leadership at Executive level at CCC:
It is essential in a complex organisation like CCC that the person in charge of finance has professional qualifications in this area, and therefore subject to the ethical criteria of the Institute of Chartered Accountants. The GM Resources and CFO job (see the wire frame above) was advertised as a combined position, which made a lot of sense. This supported the argument for a smaller Executive team by the CEO, as it would save money for CCC. Here is the internal document which described the proposed structure https://newsline.ccc.govt.nz/news/story/chief-executive-makes-changes-to-leadership-structure.
The relevant section covering finance is:
The internal enabling and resourcing services are combined into a single group, Resources Group headed by a General Manager who is also the Chief Financial Officer.
In the job ad it was stated that membership of Institute of Chartered Accountant of NZ was required.
I believe that the interview team comprised Dawn Baxendale and Bill Bayfield, former CEO of Ecan. The panel selected Miles McConway for the position of GM Resources and CFO. Dawn noted in the email she sent to staff and outside parties:
The third group is a Resources Group with functions including Finance, Human Resources and IT. Miles McConway, who is Director, Finance and Corporate Services at Environment Canterbury (Ecan), has accepted the new role as General Manager Resources.
However, Miles McConway does not have Chartered Accounting qualifications, despite the job ad requiring them. On Friday an announcement was made to staff informing them that a new position had been created for a CFO, and that Leah Scales had been appointed.
Was this new position advertised? I'm not sure whether things have changed since my being at CCC, but I would have thought that every position at CCC would have had to be advertised. I wonder if this decision could be subject to an appeal. If people who did not have Accounting qualifications but were able to fill all the other roles decided not to apply; have they got the chance to question this change? Does this decision comply with Employment law?
Engineering leadership at Executive level at CCC:
The absence of engineering skills at Executive level is a major concern. Since I was first interested in Local Government there has always been a member of the Executive Team who was an engineer. As far as I can ascertain every Local Authority normally has an engineer in the Executive team. Two fundamental elements of Local Authorities are Planning and Engineering. We finally have a Planner in the Executive team which is great. However, CCC in its new corporate structure has no engineer at the top table.
Let us consider how much of the Council finances are driven by engineering services:
The CCC Long Term Plan (LTP) was released on Friday. The total operating expenditure and capital expenditure for 3 Waters and Transport over the next 10 years is $8.3 billion.
Engineers drive organisational costs. Let us consider just how far down in the organisational structure we have to delve before we find an engineer. Here is level 3 in the organisation:
General Manager of Infrastructure, Planning and Regulatory Services: no engineering qualifications. 
Head of Three Waters: no engineering qualifications. (Formerly a policy analyst)
Head of Transport: no engineering qualifications. (Formerly a Planner)  
Head of Asset Management: no engineering qualifications. (Formerly in IT) 
So, therefore, at CCC it is four levels down before there is anyone who has engineering qualifications. A number of qualified engineers have left or have recently resigned.
This is a fundamental error in the restructure. It is essential that a core element in Local Government, engineering services, are managed by somebody with technical training on the Executive team.
Consider this scenario. When we had the earthquakes in 2010 and 2011 there were a number of Chartered Engineers at senior level at CCC who saved this City by restoring the Three Waters. During our Civic Defence emergency at any time, we could have had a serious health disaster. The engineers on our staff prevented a breakdown of civil society. At SCIRT the organisation was loaded with qualified engineers.
It would be an interesting question to ask how many Chartered Engineers who performed so magnificently at that time still work at CCC.
Another opinion:
I sent the new structure to a person who has had considerable experience in establishing management systems at a high level. cHere is their opinion:
There are some very strange groupings of functions under the GM roles.
Would have thought that a better grouping of functions under a number of roles:
GM Resources / CFO
Business partnership
Facilities, property and planning
Finance business partners
Financial management
Procurement and contracts
Legal services
Asset management
Official Information
Programme Management office
Continuous improvement
GM Infrastructure, Planning & Regulatory Services
Described roles seem about right
GM Citizens and Community
Described roles seem about right
Assistant CEO, Strategic, Policy and Performance
Chief Resilience Officer
Chief Advisor Policy
Civic and International Relationships
Mayoral Advisor Public Information and Participation
Strategic Policy
Performance Management
Team Leader Business Support / EA to Mayor
Given the size of the CCC, it seems really strange that they don't have an Executive lead (not CEO) responsible for People and Capability with a direct line of accountability for culture. After all the CCC is a large people business.
Given the importance of digital and Smart Cities, one would expect that this should be a separate Exec accountability.
Also, there is a lack of visibility as to the core professional requirements of the CCC re planning and engineering. These functions (if not direct line reports to the CEO and part of the executive team) should at least form an advisory function to the CEO to ensure free and frank and independent advice / voice being heard at the top table.
Conclusion:
The elected Mayor and Councillors, in my opinion, are now in a vulnerable position. They have had an expensive, and disruptive (because it took so long to implement this restructure), change at the top of the organisation. I question just what the actual cost savings will be, especially when considering the redundancy payments which will have been paid.
Because of the Local Government Act that Councils operate under, the Mayor and Councillors have no say over what the new structure would look like. That is the task of the CEO. They will now have to inherit the possibility of poor advice because the correct disciplines are not on the Executive team.
My personal conclusion, having considered this new structure carefully, is that it is extremely flawed.