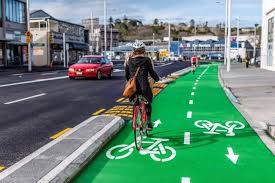 What a delight it was to read about business leaders in Auckland welcoming cycleways. https://www.stuff.co.nz/environment/climate-news/127765906/the-business-leaders-who-love-cycleways-and-public-transport.
The sort of nonsense we hear too often in Christchurch as yet another business owner squeals about how cyclists are destroying their business is always so tiring. In the article one of the business owners said:
There are benefits for business, on top of the environmental gains, Murphy said. Green transport will help Murphy's staff – the majority use active or public transport – get to work. Reducing traffic will help his delivery vans move through the city more quickly.

Cyclists and pedestrians also build a sense of community, Murphy said. "Hospitality is all about being on your feet, being able to stop on the side of the road and have a coffee – have a little moment. For our industry, I only see it as positive."
It's so annoying when politicians use active transport, cycling, as a way of getting adverse publicity and making their way into the media. It's all about getting publicity, seldom about finding a sensible solution. I don't mind if the proposal is flawed then have the debate, by all means. But every option is not flawed. When I think back to the fact that the cycleway down St Asaph Street was going to be the end of the world a couple of years ago. Life seems to have continued swimmingly.