I apologise for covering Trump again, but this guy is having a serious impact on the world, not just America. I feel so sorry for all of my American friends, even those who voted for the idiot. He isn't just destabilizing USA he has the potential to destabilise the world. His behaviour is impacting on us, and if our Government challenged him on anything, he would come down on us like a ton of bricks. That's how narcissistic bullies behave. Let's think about what if the Government decided to tax some of the rotten outfits, like Google, Facebook or Amazon to protect our local businesses and to recoup some of the massive costs they have incurred on our economy, think how Trump would behave.
You couldn't get a better picture to demonstrate the sorts of people who Trump plays to than this one. These people are banging on the door of a building demanding it is their constitutional rights to start business again. This is the face of Trump voting America: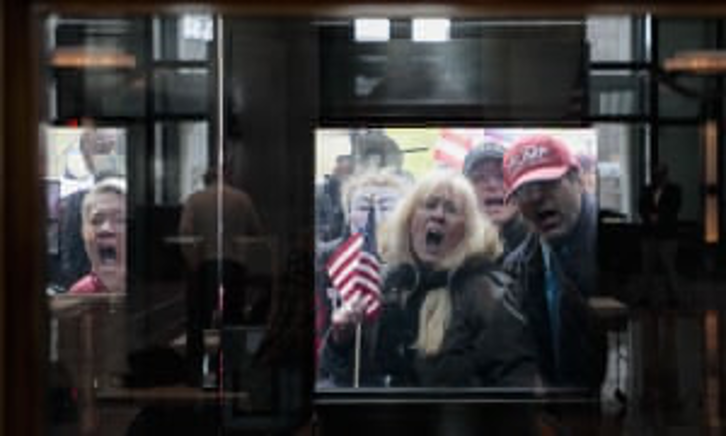 I have many American friends and how Trump got to where he is confuses me. Here's where he made his ridiculous comments a few days ago about people injecting themselves with disinfectant. When he was challenged by medics, and the manufacturers of the chemicals, he then said he was being sarcastic. When one of his friends, Piers Morgan, challenged his comments referring to them as "batshit" Trump, who cannot stand criticism, "unfollowed" him. Whatever that means! This man is seriously out of control. Here's the comments he made live:
After Trump said he was being sarcastic somebody tweeted:
Trump does not have a working understanding of sarcasm, jokes, or medicine. Same for weather, climate, history, law, geography, science, technology, democracy, literature, space, math, and art. Ditto for nukes, walls, and moats.
The cartoon below is by Steve Bell for the Guardian as a response to Trumps comments about injecting disinfectant, thanks to Mary Poppins:
I have been fascinated by how the hell Trump got to where he did in the first place. This week I read these comments in the Atlantic:
Half of Trump's supporters within the GOP had stopped their education at or before high-school graduation, according to the polling firm YouGov. Only 19 percent had a college or post-college degree. Thirty-eight percent earned less than $50,000. Only 11 percent earned more than $100,000.
Trump Republicans were not ideologically militant. Just 13 percent said they were very conservative; 19 percent described themselves as moderate. Nor were they highly religious by Republican standards.
What set them apart from other Republicans was their economic insecurity and the intensity of their economic nationalism. Sixty-three percent of Trump supporters wished to end birth-right citizenship for the children of illegal immigrants born on U.S. soil—a dozen points higher than the norm for all Republicans. More than other Republicans, Trump supporters distrusted Barack Obama as alien and dangerous: Only 21 percent acknowledged that the president was born in the United States, according to an August survey by the Democratic-oriented polling firm PPP. Sixty-six percent believed the president was a Muslim.
If you want to read a synopsis of American politics this is an excellent summary.
From The Atlantic https://www.theatlantic.com/ideas/archive/2020/04/republican-party-discovers-virtues-stimulus/609244/
I thought these paragraphs summarised Party differences really well:
The complete Republican reversal on the need for the federal government to address an economic crisis is not merely hypocrisy, although it is also that. Ideological divides between the left and right did not evaporate during the negotiations—in fact, they fell along familiar lines. Democrats wanted more generous provisions for unemployment insurance and aid to families, and Republicans wanted more money for big business and fewer strings attached to it. But those differences did not prevent Congress from legislating. Washington gridlock does not stem from ideological differences about the size or role of government, although those conflicts inevitably shape legislation. It stems from the ideological conviction, held by much of the Republican Party, that the Democratic Party is inherently illegitimate and has no right to govern.
Tens of millions of people who received aid that would not have reached them without the efforts of the Democratic Party will end up casting ballots for Donald Trump this November. In one important way, that's how it should be: The Democratic Party as it is currently constituted correctly understands that it has civic and moral obligations to ensure the well-being not only of its own voters, but of those who vote against its candidates. The Republican Party, and particularly the GOP under Trump, acts as if it has no such obligations, which is why the president himself has portrayed aid to Democratic-controlled states ravaged by the coronavirus as personal generosity rather than his fucking job.
Tea Partiers feared government responses orchestrated by a president they despise, who might spend more on the less privileged and hike taxes on people like themselves," Theda Skocpol wrote in The Tea Party and the Remaking of Republican Conservatism. "This moral social geography, rather than any abstract commitment to free-market principles, underlies Tea Party fervour to slash or eliminate categories of public benefits seen as going to unworthy people who are 'freeloading' on the public sector. For Tea Party people, it is illegitimate to use taxes and public spending to redistribute wealth from productive taxpayers like themselves to people who have not earned their way." As with so many other issues, Trump is less a departure from Republican Party conservatism than a vulgar expression of its deepest principles.
The Republican Party has not abandoned its ideological convictions about the deserving rich and the parasitic poor. Every Republican but Susan Collins of Maine and Cory Gardner of Colorado voted for an amendment put forth by Senator Ben Sasse of Nebraska, which would have cut unemployment benefits on the grounds that they create "a perverse incentive for men and women who are side-lined to then not leave the side-lines and come back to work."* Every Democrat but Joe Manchin of West Virginia voted against it, depriving it of the needed 60 votes. But the bill itself passed without a single vote in opposition from either party. Instead of following the lead of the Obama-era GOP, and aggravating the economic crisis for the purpose of bringing down a president they had tried and failed to remove from office, the Democrats felt morally obligated to cushion the impact of the inevitable recession.
The source of the GOP's extremism, and the Democrats' relative moderation, is not personal virtue. It is, rather, the fact that one party is relatively ideologically, religiously, and ethnically homogenous, while the other has to represent a constituency that is ideologically, religiously, and ethnically diverse. The Republican Party's leadership and propaganda apparatus have trained their base to view Democratic voters not just as political rivals but as an existential threat, whose claims to American identity and therefore power are intrinsically invalid. This sense of being under siege allowed Trump to seize control of the party, to govern as though his voters are the only ones with legitimate claims to American citizenship, and to command absolute, unquestioning loyalty even as his ignorance and vanity prove lethal.
As of this date, more than 51,000 Americans have died from COVID-19—a disease the president announced would be down to zero cases in February and that he dismissed as contained by China in January, contrary to what his advisers were telling him. The pandemic has now claimed more lives than the terrorist attacks of September 11, 2001; on Monday, the president sought to set expectations that a six-figure death toll would represent a triumph. On Tuesday, the White House clarified that the number of dead could range from 100,000 to 240,000; the low end of that range is comparable to the deaths of American servicemembers in World War I. Some American chief executives have presided over similar mass-casualty events, and others have had to deal with economic catastrophes, but Trump is probably the first not only to abysmally mishandle both at once, but to then to insist with unquestioned conviction that this represents competent—even exceptional—leadership.