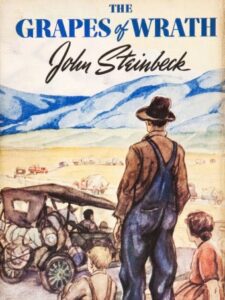 Rex Gibson sent me a summary of the end of the film, "The grapes of wrath". It reminds us that we, the people, are what it is all about. Governments and bureaucracies often operate by telling us what they think we need to know. This is especially the case with Central Government. The lesson from these lines from the film is that people know the difference between right and wrong. They know when they are being bullshitted. The greatest public antiseptic is truth, honesty and openness.
Another lesson in the fight for social justice. It will never be owned by any one political party. We must all be committed to it. In our City we know we have to work with Central Government, addressing the issues which are happening in our place and advocating for those who are experiencing disadvantage. Right now, that's even more important.
Examples of disadvantage post-Covid 19, will be businesses struggling. It will be people being laid off from work. It will be young people not being able to enter the workforce. It will be prisoners not being integrated back into society because everybody is too busy to care for them. It will be families struggling to be fed because of unemployed family members. It will be immigrants who run little businesses whose hearts are broken because family members, or whanau, or friends, were murdered at the Mosques. It will be about sectors of our society which have traditionally been marginalised.
Social justice is about ensuring that we, as a society, care for all these people. That responsibility starts with us.
In the film Tom is moved to work for change by what he has witnessed in the various camps. He tells his family that he plans to carry on fighting for social reform. He leaves to seek a new world and to join the movement committed to social justice.
Tom Joad says:
I'll be all around in the dark. I'll be everywhere. Wherever you can look, wherever there's a fight, so hungry people can eat, I'll be there. Wherever there's a cop beatin' up a guy, I'll be there. I'll be in the way guys yell when they're mad. I'll be in the way kids laugh when they're hungry and they know supper's ready, and when the people are eatin' the stuff they raise and livin' in the houses they build, I'll be there, too.
As the family moves on again, they discuss the fear and difficulties they have had.
Ma Joad concludes the film, saying:
I ain't never gonna be scared no more. I was, though. For a while it looked as though we was beat. Good and beat. Looked like we didn't have nobody in the whole wide world but enemies. Like nobody was friendly no more. Made me feel kinda bad and scared too, like we was lost and nobody cared…. Rich fellas come up and they die, and their kids ain't no good and they die out, but we keep a-coming. We're the people that live. They can't wipe us out, they can't lick us. We'll go on forever, Pa, cos we're the people.
Major social justice reform always needs "mass movements". As we emerge from Covid 19; as we know families, or individuals, who are experiencing pain and suffering; we have a responsibility to be their advocates. To walk alongside them. To support them.
"cos we're the people".