There were many articles written during the week. I thought I would reprint some of them. The first one I can't remember where I read it! I agree with their final comments:
With the Government's Review into the Future for Local Government underway, now is a good time for New Zealanders to question the purpose and role of government in their local communities. Although officials in Wellington might refer to your local council as an 'external partner', the council is itself an organ of the state; an elected bureaucracy that functions more as a government department than a democratic body representing the interests of a particular locality or community. Therefore, it is not obvious that the solution is more devolution of power to local government, as Local Government New Zealand has argued. It could be that the solution lies in democratising council bureaucracy.
There have been many emails into my computer. Here are a few:
Hi there – having just listened to the latest epistle from the govt – I have to wonder..
Why did I think we lived in a democracy? Clearly I was mistaken.
What I don't understand is how this has been 'allowed' to happen.
In Switzerland everything is done via referenda – here it is done by decree.
The ratepayers are supposed to determine what happens in local govt and the taxpayers are supposed to determine what happens in central govt. What's going on?
I see there is a petition circulating to have Jacinda stand down. It's all a shambles – a bugger's muddle.
And:
In the light of yesterday's decisions, and the ongoing criticism of incompetent local government, I'm wondering whether some thought should not be given to setting up a mock trial of central government for incompetence its role. Could probably start with the community outcomes/L TCCP process in the 2002 Local Government Act which was quite aspirational at the time but undermined by two significant central government failures:
· to ensure that councils generally had a shared an understanding of how the whole community outcomes/L TCC process was intended to work including central government collaboration in determining who should deliver what outcomes.
· To require departments to deliver on central government's commitment that departments would work with the process.
Then move onto Nick Smith's Better Local Government initiative in which he took the evidence that rates had started to increase faster than the rate of inflation since the introduction of the four well-beings and attributed this to councils using the new power to spend on nice to haves. At the time as I understand it, he had evidence from his Department that the increase was being driven by additional investment in infrastructure especially drinking water. Nick as you know has never liked local government and was very happy to allow this misinterpretation as it served his purpose of normalising the view rates shouldn't rise faster than inflation – all done for his party-base of low tax enthusiasts. My understanding, which I would need to check, is that DIA ended up apologising to LGNZ for its part in promoting misinformation. He was very successful. Put local government in the bizarre situation of central government having in effect forced it to hold back rates increases only now to condemn it for having done so and failed to invest in infrastructure (the prosecution on this one would argue that it's irrelevant different party labels were on central government at the relevant times and would also point to the ongoing role officials – it's simply unacceptable that political parties do not accept they have some responsibility for vast swings in the pendulum in important sectors of society) is.
Next dig into the various productivity commission reports on what they have said about the relationship between central and local government, the virtual pig ignorance of officials, and the persistence of the unfunded mandate.
Finally look at the widespread and well documented failure of central government, despite quite compelling evidence, to recognise the need for local government to have revenue sources appropriate for its responsibilities.
And I was cc'd into an email sent to Duncan Webb:
Duncan
Thank you for nothing for your usual patsy response. This was obviously a pre-scripted spin doctor letter with perhaps a few insertions by you. You failed to answer some of my queries and the at times condescending reply eschews the increasingly centralised "We know best" attitude that seems prevalent within this administration.
You, along with Mahuta, and all your party should hang your heads in shame for announcing your neo-liberal approach to water reform.
For a party that received a majority enabling it to govern alone, it has failed to listen to the majority of councils or the public at large. You have mislead the public on water reform, have haphazardly planned and set out the strategy so far, blamed councils unfairly at times and placed people onto groups who have a vested interest in 3 Waters proceeding by government dictate.
I observe a poorly performing government on most fronts:
– housing,
– increasing inequality,
– increasing child poverty,
– ongoing Oranga Tamariki debacle,
– the mediocrity with which Climate Change is being dealt with (avoiding the sacred cow at all costs which is at the nub of this issue for NZ). Little wonder that the excellent journalist Rod Oram has become so depairing of late.
– The dilution of our water reforms and the ongoing disgrace of environmental/animal welfare with the delaying of reform. And you haven't cleaned up the rivers as you state. We know they are continuing to deteriorate.
– the Immigration shambles and seemingly absent/not with it Immigration Minister
– the lack of transparency and openness in so many areas of this government's way of operating (did local authorities get consulted preannouncement of latest housing initiative?); – the rushed Health Reforms and the disgraceful inaction on mental health; and just today
– ACC staff bringing that organisation into disrepute as announced today – what happened to the recent – all new Public Services Act? Perhaps ACC staff are exempt from the requirements of public servants as to behaviours and respecting client confidentiality.
I could add to the list above as it is far from exhaustive.
What's the point? You aren't listening and neither is your party.
I so wish I had an electorate MP I could respect and trust but watching your performance and the few interactions I have had; I have to say – you don't stand for the majority of people you are supposed to represent. You have remained silent on key issues like health debacle last year. You and your local colleagues have either been told not to comment or you are not being authentic and advocating strongly on the causes you have purportedly stood for.
Today's announcement simply reinforces the increasingly dictatorial style of this government.
And from Andrew Turner:

I am deeply disappointed by the Government's decision today to mandate the three waters reform proposals, which would transfer water assets built by generations of Christchurch citizens to a faceless entity that includes Ashburton and Invercargill.
This is a broken promise. We were told this would be voluntary and now it is being imposed against the will of the Council and of the community. I can't support this reform process, which could result in ongoing chlorination of our drinking water and a move to volumetric charging.

This is Wellington deciding it knows best, not the kind of collaborative partnership we had hoped for or expected from Government nor what was promised by them in opposition.

We have not found the consultation process to be anything more than token so far and I do not hold out hope that there will be any meaningful improvements before legislation is tabled in December.

Our water assets will be conveniently placed in these entities ready for a future government to partially or fully privatise. This is particularly disappointing given that we were able to protect our assets from sale despite pressure from the previous Government in 2015.

Peter Dunne's comments on the reforms:
The obvious opportunity for hearing what the public – or at least the portion of it that bothers to vote – thinks will be at the next local government elections now less than a year away. But the last thing the Minister of Local Government and her colleagues want is the local body elections to become a referendum on the Three Waters plans, hence the decision to proceed at this point.
The unfortunate reality is, as with the housing changes also, that central government holds all the cards. Local democracy, it would seem, is fine but only up to a point, The clear message from both the housing and Three Waters changes is that when it comes to the big decisions, central government will do what it wants, regardless of other views. Local councils and people can talk and rage all they like about what is happening, but it is effectively too late once the major decisions have been made.
The same pattern is being demonstrated with the health reforms and many aspects of the Covid19 response where the default position has been throughout that everything must be controlled by the government. One has only to look at the cumbersome, incompetent, unfair, callous, and unworkable MIQ system or the ineffectual sealing of internal borders to see how good this government is at running things!
So, where does all this leave the Minister of Local Government? She has single-handedly torn up her credibility over the last three weeks. She now risks becoming the modern embodiment of Alice in Wonderland's Mad Hatter: "When I use a word… it means just what I choose it to mean – neither more nor less."
Given that she is also the Minister of Foreign Affairs, and there are difficult emerging foreign policy issues ahead where the precision, clarity, certainty, and veracity of words will matter, a Mad Hatter making it up as they go along is the last thing we need.
From Te Maire Tau:
"Historical underinvestment and an 'out of sight, out of mind' approach to crucial infrastructure has led to mass illness, contamination, and literal eruptions of waste in the streets. It has also led to negative impacts on our rivers and streams, particularly in urban areas. These are issues that Ngāi Tahu and councils, and indeed all South Islanders, have a common desire to address."

My comment on this quote is it is straight out of the government PR sheet. So, I thought I would print something about Scottish Water which our proposed system is based on, as it is seen by the government and its advisors as an exemplar. Creating a new expensive unaccountable structure will not mean that "eruptions of waste" will cease. Last year Scottish Water was convicted in Court as reported in the media:
Glasgow Sheriff Court heard the huge sewage dump – enough to fill 1,733 Olympic-size swimming pools – was made between May 16 and June 9, 2016.
Here's some data from Scottish Water:
The figures the utility firm does have shown that last year there were a total of 12,725 "spill events" – up 40% on 2016.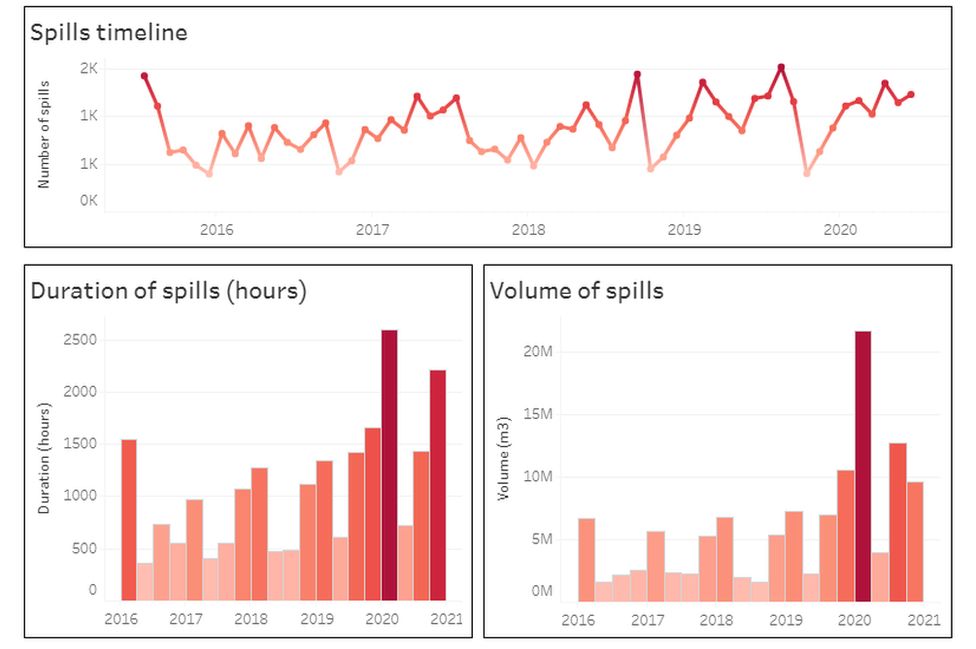 …and last week Newsroom reported:
Commerce and Consumer Affairs Minister David Clark has published a discussion document on protecting consumer interests, just a few hours after Local Government Minister Nanaia Mahuta confirmed the Government would mandate the amalgamation of all 67 councils' Three Waters networks.
Each of the four new water authorities will be natural monopolies, he acknowledges, so consumers won't have any choice about where they get their drinking water, or who pipes away their waste. That means regulation is needed, to prevent them abusing their power.
That's especially the case because (as worried councils have warned) the new entities will have "complex and novel governance arrangements" that will make them far less accountable to their owners, the ratepayers of New Zealand. And nor will they be accountable to Government.(my emphasis)
This seemingly inexplicable lack of democratic oversight is justified, by Mahuta and the Department of Internal Affairs, as being forced upon them by Standard & Poor's. They say that without this balance sheet separation, the credit agency will refuse the new authorities and councils the good credit ratings that they need to borrow more money to upgrade their sometimes tired and broken infrastructure.
What that means is that unless the mayors and iwi leaders on the new governance working group can persuade Mahuta to soften her stance, David Clark's new economic regulator will provide the only protection against the new water authorities going rogue. It will be the only watchdog to rein in their borrowing, or their rates increases, or to champion consumers when there are shortages and outages and nobody at their water authority's call centre is picking up the phone.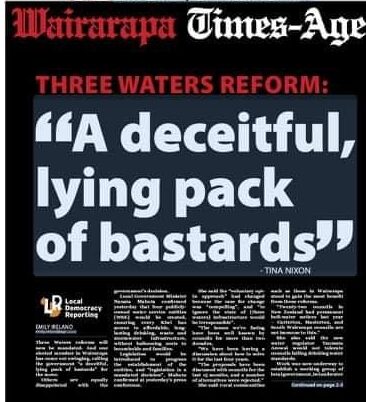 Isn't it fascinating that one section of government is pointing out that the new structures will be less accountable to their owners? That's us. I wonder how the patsy appointees appointed by LGNZ and the government (so they won't be boat rockers) handle the fact that these new arrangements are already acknowledged by another government department as being anti-democratic. Also, that these new structures were structured to comply with Standard and Poors recommendations. This outfit have absolutely no commitment to democracy. I know, because I flew to Sydney one day to argue with S&P about Christchurch City Council's credit rating. They were the most formulaic people I have ever dealt with. They had no understanding of, and placed no value on, democracy.
https://www.newsroom.co.nz/pro/watchdog-to-protect-consumers-from-big-new-water-providers
Here's a copy of the front page of the Wairarapa Times after the announcement: