In an essay in the Washington Post Shabana Basij-Rasikh wrote about her father's grief of leaving Afghanistan, the country he loved. She refused to see him as a refugee. She wrote: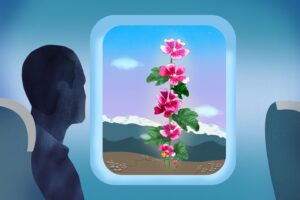 To all, I say:
Please don't see us as your burden. See us as what we are: Afghanistan's great loss.
Coming among you now are journalists and entrepreneurs and artists and dreamers, the skilled backbone of the young democracy that has been ripped from our nation. The builders of a future now being dismantled, brick by brick and life by life. 
The things we carry are forever. They are our burdens — but we are not yours. Just in my immediate SOLA community I see such exceptional talent: English-speaking Afghans with a background in adolescent education, in counselling, in IT. We are part of the brains that have drained away, out of our country and into so many others.
We are the departed, our home blanketed in night, and in my father's garden flowers are opening, untended and unseen. Afghanistan needs you, he used to tell me. Come home and serve your people.
I haven't forgotten, Dad. I never will.
https://www.washingtonpost.com/opinions/2021/09/16/shabana-basij-rasikh-afghanistan-fathers-garden/
New Zealand has an opportunity to save the lives of people from Afghanistan if we choose. Let us not sit on our hands. Let us demonstrate that we can be kind and welcoming of newcomers to our country. Newcomers who have followed in the footsteps of our tupuna.