Establishment of the 3 Waters Transition Unit: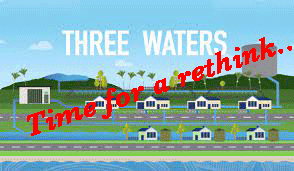 Last week this item came up on RNZ's website while everybody was distracted with the war in Europe and the demonstrators in parliament:
The three waters reform National Transition Unit board will be chaired by Waka Kotahi NZTA chair Sir Brian Roche, the government has announced.
Other members of the unit, which is hosted by Internal Affairs (DIA) were also appointed this week, and include:
Kāinga Ora deputy chair John Duncan
Reserve Bank independent director and former investment banker Fiona Mules
Commercial and property lawyer and iwi chair Rukumoana Schaafhausen (Ngāti Hāua)
NZ Council of Trade Unions president Richard Wagstaff
Former Local Government New Zealand and Auckland Regional Council chair Peter Winder
DIA also appointed Te Puni Kōkiri deputy secretary Hamiora Bowkett to lead the reform programme delivery, and Palmerston North City Council chief executive Heather Shotter to lead the national transition unit within DIA.
The worrying issue is that 4 of the 6 board members are commercially driven. One director, John Duncan, used to be the CFO of the National Bank. This exercise is not about waiting for consultation. it is bone headed shoving by the government through a badly thought-out proposal which will corporatize our water systems.
This has nothing to do with democracy, or community owned assets. It's all about following the design of our water systems by international bankers, Standard and Poors and consultant driven organisations like WaterNZ and InfrastructureNZ. I have had vigorous debates with one of the newly appointed board members.
He was working with Bill English on this design for the corporatisation of our water systems before the change of government. He has continued as a close advisor to Nanaia Mahuta. This dumb government has just continued with the poor public policy of the government which preceded it. So much for parties being different….
I worked as deputy to Brian Roche in what is now Waka Kotahi. I served on the equivalent of this board which was called an "implementation committee". Brian follows Ministerial instructions to the letter. That's why he continues to be recommended by Treasury.
I served on a "transition" committee with Brian. Don't be fooled. This unit will implement what the government wants.
I will conclude with this statement. Do not feel relaxed towards this legislation. This government by their actions are demonstrating that they have not moved a millimetre on its path for changing 3 waters. They will shove it through, and our water systems will be taken from local communities for ever.
Three waters transition unit appointed (msn.com)
2. Dunedin City Council joins other councils resisting the proposed 3 Waters legislation:
I watched the debate at the Dunedin City Council on whether they would join other Councils around New Zealand challenging the proposed 3 Waters proposed legislation. They decided to accompany Christchurch and join. It was fascinating watching what seemed to be the mayor using Gabrielle Huria as a weapon against some within his council who wanted to vote to join the group.
What was especially disturbing was how one of the councillors effectively attacked Gabrielle with his questions. This was uncalled for and should have been stopped immediately. The role of a mayor is to make everybody at the council table safe. Especially manuhiri. Politicians need to be kept in line. I felt so strongly about this I wrote to the mayor and said:
I was watching the submissions to your council meeting this morning.
I was appalled at you not stopping the Councillor who attacked Gabrielle Huria. That is your responsibility as a Mayor to protect all those at the Council table, especially guests. You failed miserably at what is your special responsibility as chair of the meeting.
Or, did it suit you to make Councillors support Ngai Tahu, because of they were being badly treated
What offended me was that the group challenging the 3 Waters legislation are not anti-mana whenua involvement. In fact, their statements reinforce this issue. It is not either or. It is not correct for the PC brigade to chant "racist" at those who disagree with the 3 Waters legislation as proposed. However, joining this grouping which has developed sensible solutions was painted as being "racist". That could not be further from the truth.
What is needed is proper discussion. Not closed minds. A solution can be found. It's just the current proposal will not work, democratically or financially.