For those of us with a long memory how central government approaches local government is too often an exercise in bullying. The Department of Internal Affairs (DIA) is supposed to maintain a watching brief on local government and advise government on what changes are necessary. It seldom does this well, in my experience. The latest example was the proposed 3 Waters legislation last year where, once again, we witnessed poor leadership by DIA, and even worse advice to Ministers.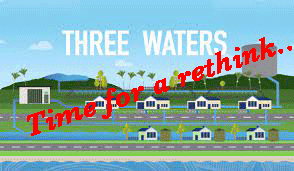 The proposed 3 Waters legislation reminded me how in 2000 the Government was considering a rewrite of the Local Government Act. At Local Government we were uncertain that DIA had any real understanding of the workings of Local Government, or what changes were necessary. Christchurch City Council offered to second our City Manager, Mike Richardson, to assist with the rewrite. As a result of this partnership the Act which was passed was a good one.
Mike Richardson wrote an analysis of the proposed 3 Waters legislation, and it was amongst the best I've read.
Local councils are a creature of statute. Central Government sets the rules, and too often the relationship is unequal. When ratepayers moan about the length of time that the building consent they are waiting for is taking forever, it's often because the government department which sets the rules, Ministry of Business, Innovation and Employment (MBIE), has created impossible tasks for local government to implement. This state of "the centre knows best" will be worse after the promised reforms of the RMA.
It is time for a review of local government as central government has loaded more and more onto local councils, often with little, or no, consultation and generally without any additional financial assistance. Local rates are often high because of the demands imposed by successive governments on councils.
The last major reform of local government was by the Labour Government in 1989. Minister Bassett, an extreme disciple of neo-liberalism, scrapped huge numbers of local councils. He also removed subsidies for local water systems. To a large extent NZ is now reaping the dividend of lack of support from central government over water systems, and local government is being unnecessarily blamed.
When the government introduced GST in the government of which Bassett was a minister, they also imposed it on local rates. This is a tax on a tax.
Last year instead of conducting a comprehensive review of local government, what it is and what it could be, central government started from the other end. They announced a review of the Resource Management Act (RMA) and then a total garrotting of the water systems of this country. Then they announced, much later, the appointment of a panel to review local government.
We will be hearing more about this review of local government and how we can get involved.
Let us focus on the 3 Water debate
It must be stated from the outset that there is no debate that every New Zealander must have access to good clean water. There is no debate that mana whenua must have a role over water in this country. Wai ora is the lifeblood of all our lives.
When we consider the state of our rivers in Aotearoa, we have a big job to clean them up. We also must ensure that the management of the water systems which flow through our towns and cities and through our homes is efficiently and effectively operated.
The government has been advocating a radical change to how water is delivered. Unfortunately, it is based on a number of erroneous facts. The Minister, and the Prime Minister, both quote that 34,000 people are poisoned by water every year. Just think about this. Who do you know who has been poisoned by water? I don't know of one. The figure comes from a paper presented by a student in 2004. There is no supporting documentation.
The second "fact" is that the mass poisoning in Havelock North was an indication of how badly local government has let its systems deteriorate. This was an example of a council which had not invested properly in its infrastructure (probably playing to "we will keep your rates low" careful of this irresponsible promise this election year) and the Department of Health, which had a legal responsibility to monitor the system failing dismally in its task. It was a failure by both central and local government.
From what we can find this was the only major issue with poisoning since 1995 in any local council system. There have been some minor issues with small local systems which are generally not the responsibility of local councils. The proposed reforms do not embrace these small systems.
Under Bill English, as Minister of Finance, central government was considering water reforms. Then along came Havelock North and here was an excuse to centralise the water systems of New Zealand. This task was enthusiastically picked up by InfrastructureNZ and WaterNZ. Both bodies interested in the commercial benefits of reforms. Their commitment to reform was beautifully camouflaged in their concern for "safe water" after Havelock North.
The Department of Internal Affairs proceeded to be bewitched by these arguments and proceeded to promote what they were supplied with and invited local government to the discussions much later. Like years. Local Government has a central body called Local Government New Zealand (LGNZ) and the government then locked them up in a "Letter of Understanding" which basically neutered them. This wasn't a meeting of equals. It was an imposition by the strong on the weak. The final paper passed by cabinet laying out the new 3 Waters structure was written before the submissions from local government had even been summarised. The whole "consultation" process was a dishonest sham.
What is intended to be implemented is a structure which will never work. All the water infrastructure from local government will be transferred to 4 authorities. These will have equal number of reps from local councils and mana whenua. In the South Island there will be 21 reps from local councils and 21 from Ngai Tahu. Local councils have been informed that they must hand over their assets and be paid a pittance for them. In Christchurch the council has $6.9b of water infrastructure and $1.1b of debt and receive $122m for these assets. The proposed "restructure" is yet again, a neo-liberal solution. The market knows best.
It's time for us all to sit back and have a rethink on 3 Waters infrastructure in a sensible grown-up manner.
We need local government to have sufficient financial resources and redefined (I am a disciple of subsidiarity, not a centralist). This will take time. Local government has been ambushed by these proposed water reforms. Instead of it being a power scrap it's time to engage in sensible discussion. There's no need to debate the need for clean water for all. The debate must centre around the responsibility being retained locally. Our water infrastructure has been invested in by generations of ratepayers. It must always be owned and controlled regionally.
Both Labour, and National, have used the Scottish water model as being the solution. Once again, this country has homed in on a single solution. There are other, much more democratic and owned locally models. One would be how the Dutch who have managed their water under a local, very democratic, system since the middle 1600's.
In conclusion I say it's time to pause and discuss 3 waters solutions in a sensible and proper manner. First let us have a serious look at the purpose and financing of local government. Let us consider other models of how efficient and effective regional water systems could be established. So far, the discussions have been the litany of the deaf.
It's time for a change, with all parties seated around the table. Not the way things have been handled to date.