The Parliamentary Select Committee has reported back on submissions on this Bill. The length of the consultation process was a farce and Eugenie Sage deserves our congratulations on even getting anything through. Newsroom reported: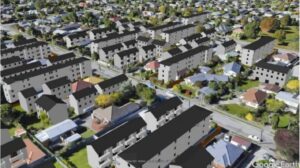 The committee, chaired by Green Party MP Eugenie Sage, has agreed on the importance of greater housing intensification to address the housing crisis, and agreed that dwellings should be allowed to be built 11 to 12 metres high throughout most of Auckland, Tauranga, Hamilton, Wellington and Christchurch.
But it recommends ministers pull the roofline away from the boundary – and it is understood National is seeking to go even further. The bill, as it stands, would allow a new apartment block's roofline to overshadow the boundary up to 6 metres high, with a 60° recession plane (see diagram below). The committee recommends that boundary shadow be lowered to five metres, and National wants it lowered still more.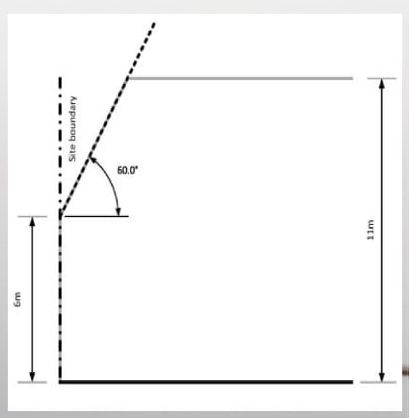 The committee also recommends councils have a greater say in qualifying matters that will further restrict the new buildings – for instance, historic or heritage neighbourhoods, the relationship of Māori and their culture and traditions with their ancestral lands, water and wāhi tapu, the natural character of the coastal environment, outstanding natural features and landscapes, and significant risks from natural hazards.
It recommends every ground unit have at least 20 square metres of outdoor living space, and four metres space outside the main windows so residents aren't looking straight at another building – proposed changes that are welcomed by the Green Party.
But despite having the chair of the committee, Green MP Eugenie Sage wasn't able to get majority support to provide greater protection for trees.
Rosemary writes: The issue for me is not individual protection for trees, but planting more of them. If we have 3 (or six) times as many people living in an area, then we need more public spaces, more playgrounds, more trees…
Rushed legislation never works. This won't either. However, some poor households will have to live with shadows over their home and grounds because some greedy individual used this poorly thought through legislation to their personal advantage. Here's a link to the article:
https://www.newsroom.co.nz/pro/national-seeks-to-reduce-shadow-of-new-3-storey-suburban-apartment-blocks
In Stuff there was a report on Nicola Willis appearing to pull back on the legislation. I wish the media would not see somebody changing their mind as a failure. Instead, it should be reported as a positive thing that they have listened and then responded to submissions. Here's what the article said:
Willis, who is retaining the housing portfolio and was key to getting her own party over the line on the bill,told Stuff on Tuesday night National was keen to put forward some amendments to give "more discretion" to local councils.
"As Christopher [Luxon] said today, we have seen through the submission process very clearly that there is a need for local authorities to have more discretion than is currently provided for in the bill and to ensure that there are better design standards," Willis said.
"We've always said that [the right to build] is subject to some constraints, things like heritage protection, things like ensuring that areas that aren't suited to density because they have flooding risks, because they have hazard risks, all of those sorts of things are there."
The article also reported on an Auckland housing lobby group which strongly supports the Bill. On Jim Mora's programme on RNZ on Sunday morning there was an interview with one of the supporters of the legislation. ALL his arguments were about Auckland's needs. I didn't disagree with many of them. However, why is the government intent of imposing a solution for Auckland on Christchurch?
Again, I repeat what I wrote last week. Auckland's issues are one thing. Christchurch does not need an Auckland solution imposed on us down here.
Here's a link to the article: https://www.stuff.co.nz/national/politics/300467324/housing-advocates-urge-national-to-stay-the-course-on-bipartisan-deal-to-force-councils-to-allow-more-homes
Rosemary can not resist adding: We need intensification in Christchurch too Garry and we are not getting it under present rules.
Axel cannot resist either and feels the urge to add that he agrees with Rosemary.